Yet another back-to-back for the Blackhawks tonight, as the Philadelphia "Let's give Steve Mason some Carey Price money!" Flyers come to the UC for the first tilt between 2010 Cup Final opponents this year. Since that year, Philly has slowly fallen off a cliff, first by dumping two offensive centerpieces to LA and Columbus, then giving Ilya Bryzgalov a massive deal only to buy him out, followed by some strange decision-making in the signing of ol' Vinny Lecavelier and Mr. Flash in the Pan himself, Steve Mason. Now, I realize that's Mason's agent saying he's worth that money, but let's be real.
We're talking about Paul Holmgren here.
Anyway, between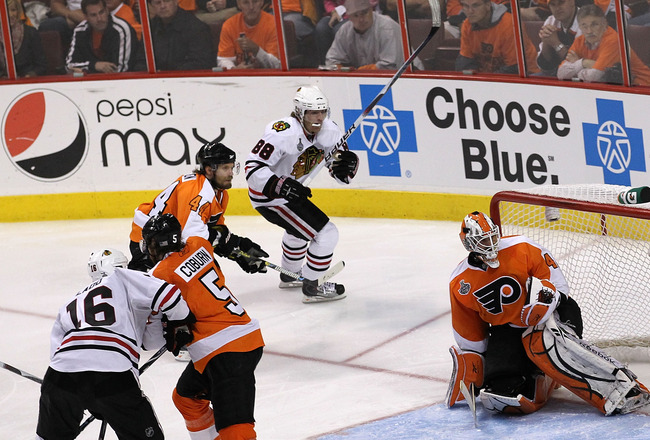 And
The Philadelphia Flyers have gone out and gotten themselves this:
And they're about to have a whole lot more of
I guess the point I'm making is this: While Stan Bowman goes out and gets Nik Hjalmarsson at $4.1 million for 5 years, Johnny Oduya for a 2nd and 3rd rounder, and Brandon Saad and Andrew Shaw in the 2nd and 5th round in the draft, respectively, Paul Holmgren pissed away Mike Richards and Jeff Carter, had fun with Ilya as mentioned above, and mysteriously acquired Luke Schenn for (AMERICAN HERO) James Van Riemsdyk. You'll excuse me if I don't look as dumbfounded as you might expect that a team led by Jonathan Toews and 2nd in the League point-getter Patty "Titty Shots" Kane now has two Stanley Cup Championships in 4 years while the other team led by this guy:
and this other guy:
are only barely getting themselves back into the playoff picture this year.
On to tonight's matchup:
The Blackhawks have historically been very, very good in the second game of back-to-backs, (0 regulation losses in 7 games), and tonight probably won't be much different. The Flyers will throw out Public Enemy #1 up until the events detailed in THE RETURN: PART ONE in Razor Ray, who goes up against the kid who has ostensibly become his replacement in THE LORD OF THE DOWNSTAIRS Antti Raanta. On the subject of Raanta: he gave up one goal he'd really like to have back on a play where he lost his post, and another on a deflection from TP's newest mancrush, Antoine Roussel. Still, 2 goals against is something you'll take every. damn. time., no matter how many shots he faces, because you just know the Hawks will put up 3. Look for a similarly played game tonight as last night's, as the Flyers are still the goddamn Flyers, although there won't be a sieve in the form of Kari Lehtonen or Scott Clemmenson in the opposing crease; the Hawks might only score 5.
Go Black Hawks.
#NBCRivalryNight